PHIDIAS Highlights at the Teratec 2021
Teratec Forum's sixteenth edition took place virtually on 22-24 June 2021, bringing together top international experts in high performance computing (HPC), simulation and big data, both from research and industry, as well as an excellent showcase for national and European projects and initiatives.
The event is vivid evidence of the strategic importance of these technologies for developing industrial competitiveness and innovation capacity.
Virtual Exhibition: Showcased PHIDIAS use cases and outputs
In this year's edition, PHIDIAS - Prototype of HPC/Data Infrastructure for On-demand Services, participated in the Teratec 2021 virtual exhibition dedicated to the European HPC ecosystem, Europa Village, which was opened to all organisations working to develop the European supercomputing infrastructure aiming at the success of technological innovation, and operating in particular within the framework of the EuroHPC program.
One of the most ambitious goals for PHIDIAS is to establish solid links with the scientific, engineering and industrial communities that may be interested in the project's results and outcomes to initiate and bring forward high-level exchanges at different levels. This is exactly what the Forum allowed, as the team was able to meet a wide variety of stakeholders whose interest in establishing further contact for joint actions is certain.
One-on-one meetings' key takeaways
The PHIDIAS team had an opportunity to meet in one-on-one meetings with five key businesses and providers, discussing specific aspects of the project for potential synergies beneficial for both sides that could result in long-term cooperation when the project's findings will be market-ready (in order: EOLEN, HALIAS, HUAWEI, QARNOT Computing and Telecom SudParis).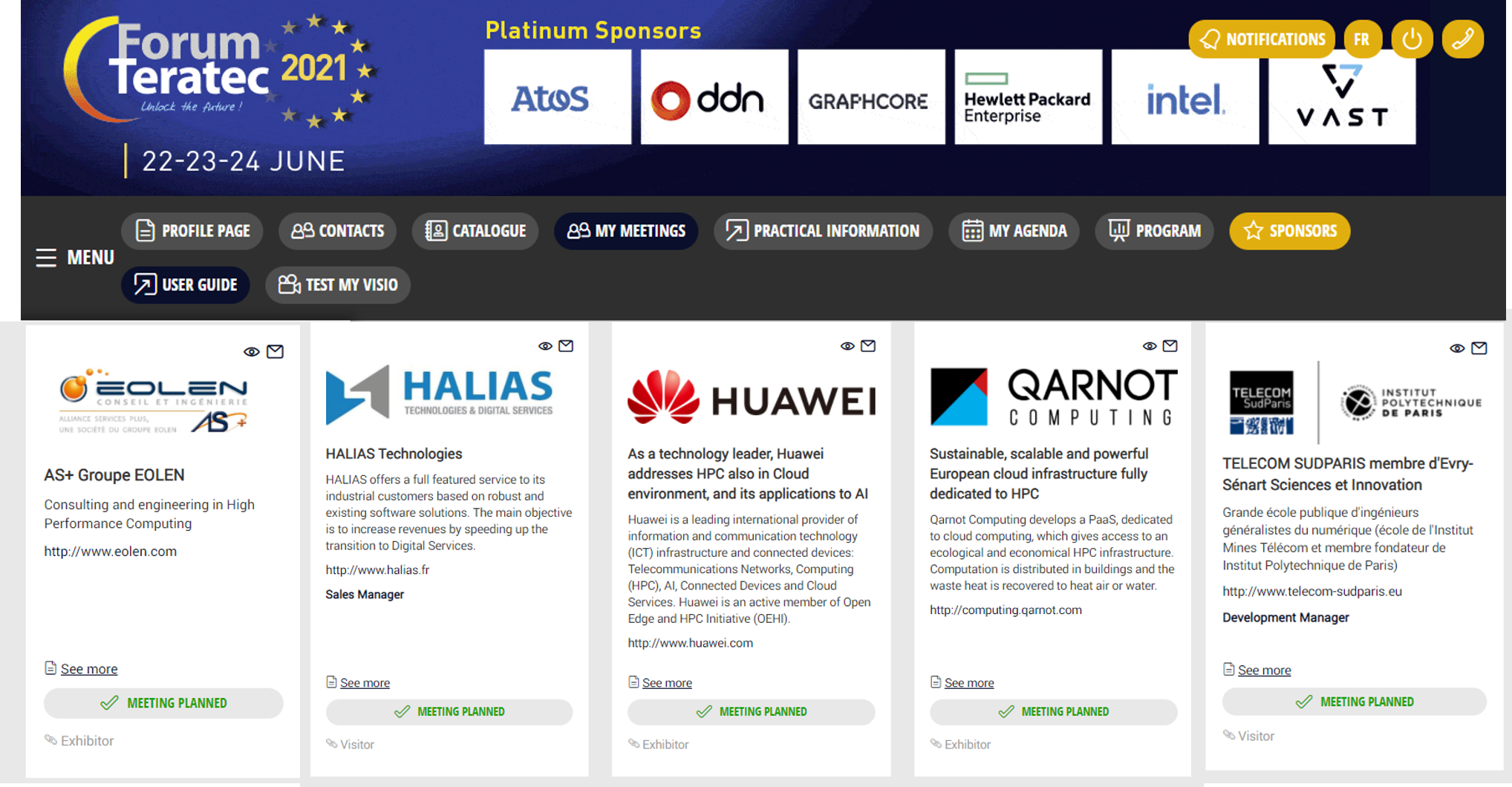 One of the most fruitful discussions was the one-on-one meeting with Groupe EOLEN1.
Since 2010, their HPC unit has been providing various players in the sector – industrial and academic users, operators and computer centre hosts, publishers and developers of digital simulation solutions – with their services, covering the following three main areas of expertise: (1) Digital development and simulation in the HPC environment, (2) Outsourcing of computing infrastructures, and (3) Support for HPC projects.
The Teratec Forum is a unique opportunity for all the players in high performance computing and numerical simulation to meet partners, customers, prospects as well as journalists, enabling them to source highly qualified leads and contacts for a guaranteed return on investment.
Want to know more about PHIDIAS? Visit www.phidias-hpc.eu.
---
[1] PowerPoint presentation (in French) sent by their Business Development Director, Sébastien DROUIN