Secure Deployment of the Soil Moisture at the Plot Scale
The engineering work in remote sensing, data, and HPC systems has enabled the secure deployment of the processing chain Soil Moisture at Plot Scale (S2MP) in the supercomputer OCCIGEN at CINES.
The use case on big data earth observations is processing on-demand for environmental monitoring focused on the land surface compartment. This is being led by IRD, together with the other French academic institutes INRAE and CNES (involved in the THEIA land data centre), the IT private companies Geomatys and Geolabs, coordinated by the CINES.
Sentinel-1/Sentinel-2-derived Soil Moisture product at Plot scale (S2MP) over agricultural areas provides the academic community with essential data to parameterise hydrological or agricultural models in the context of modeling meteorological processes, water balance cycle assessment or crop development models at the plot level. It will also be targeted at the agricultural sector (irrigation monitoring).
This deployment is achieved through the containerisation of the source code of S2MP in a Singularity container. It allows us to take advantage of the great capabilities of the supercomputer. The tests conducted have confirmed the proper execution and obtaining mapping data following the reference executions.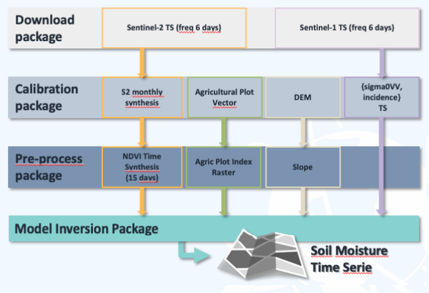 EO data processing chains for massive and on-demand execution
In PHIDIAS, the team has already done the following: the output grid using Sentinel-2, linking different modules for processing chain automation, containerisation with singularity and execution on OCCIGEN HPC (CINES) with Zoo-project.
The next step will be to connect the WPS Zoo-project server to allow an on-demand execution of the SM2P chain. Sending execution requests to the OCCIGEN supercomputer will be done through the SLURM task manager via a secure environment.
Learn more on the latest updates on the PHIDIAS use case: Big data earth observation.